STATEWIDE SERVICE in NEW JERSEY with a focus on:
BERGEN COUNTY
ESSEX COUNTY
HUDSON COUNTY
MONMOUTH COUNTY
MORRIS COUNTY
OCEAN COUNTY
PASSAIC COUNTY
UNION COUNTY

"Every case is handled as if it is the most important case in our office" -John Bruno
FOR A FREE CONSULTATION CALL:
201-460-9494 1-844-4BF-LEGAL (844-423-5342)
301 Route 17 North, Suite 211 Rutherford, New Jersey 07070
94 Jabez Street Newark, NJ 07105
811 Sixteenth Avenue Belmar, New Jersey 07719
M.D.
Under Promise and Over Deliver, seems to be the model of this firm! From the time I walked in their office through the disposition of my case I never lost faith or confidence in Mr. Bruno, and I can honestly say I WILL NEVER WALK INTO COURT WITHOUT A BRUNO!
B.P.
John W. Ferraro represented my Property Management Company on multiple landlord/tenant issues. All issues were handled promptly, professional and with discretion. John was very easy to get in contact with answering all emails same day, returning calls within hours and even texting in emergency situations. Having a law firm that is that committed to serving the needs of its clients is paramount when growing a business.
J.J.
I found myself in a situation where I was wrongly accused of a crime and was in a really bad situation; legally, mentally, and emotionally. I reached out to Bruno and Ferraro and Kenneth Ralph called me back immediately that day. Kenneth Ralph and Jonathan Bruno treated me like family and in the end I found a satisfactory outcome to my legal matters which helped me mentally and emotionally. Kenneth never failed to communicate to me when my nerves got to me which anyone in a precarious situation can understand. If you are in the Rutherford area and need professional legal help, Bruno and Ferraro are who you want to call.
J.D.C
John Ferraro represented me in a Landlord/tenant matter, handled it with the perfect mix of professionalism and familiarity. They immediately provided me with a sense of certainty and focus whenever something changed. John was incredibly easy to get in contact with, even outside of work hours.
K.B.
As executor of an estate I felt overwhelmed, however turning to John W. Ferraro for representation in a real estate transaction was hands down the best decision I made. He responded quickly to my questions and concerns, professionally dealt with opposing counsel and problems as they arose, and ensured we closed quickly on the sale of the property. Will use Bruno & Ferraro again for any future real estate transactions.
J.V.
John Bruno was an excellent choice to represent me during my traffic violation case. He was always in constant communication with me which made me feel very in the loop and at ease during the whole process, which could obviously be quite stressful. He always went the extra mile and put in the work when he could of just settled where most attorneys would. I am eternally grateful for John and the hard work he put in to help me!
R.B.
Jonathan Bruno is an amazing lawyer but on top of that he's an amazing person, and that goes a long way when deciding on whose going to represent your best interests. I will be using him for life and I highly recommend him for any of your legal needs because big or small, he gives thorough dedication to each matter at hand.
J.K.
Jonathan Bruno is an exceptional attorney who has proven time and time again to have mastered his craft in the legal profession. He went above & beyond in his service and I could not be more thankful to call someone of his caliber my lawyer.
I was also impressed to see that Bruno & Ferraro law firm has a long history of won cases and are simply the best in New Jersey. Lucky to have found them. No need to call anyone else.
C.P.
I am not sure that I can find the right words to explain how amazing a team John Bruno and Kenneth Ralph are. Aside from the best outcome possible, they amount to so much more. They are genuine, kind, respectful and beyond brilliant. They not only do their job above and beyond any expectation they make their client feel that they are listening to everything they say. They fight the fight. Between their years of experience and who they are as men I don't think I can find a way to describe what they have meant to my son and our family. Also, there is a team at the Bruno and Ferraro office that is right there with them through the whole entire process. They all give support to the team, as well as. to the client and thei…
H.S.
Used Jonathan Bruno 3 times on Serious motor vehicle in fractions …DWI.I'm pleased to say I still have a license to drive. 10 ⭐ Never go to court without a someone from this firm..dismissed or plead guilty to much lesser infractions. Worth every penny they charge.
R.M.
Outstanding legal representation… Hands down, the best defense attorneys in New Jersey…
They're in the business of caring about their clients, putting up the best defense and winning!
K.M.
Bruno and Ferraro have saved me more times that I care to admit.
M.D.
From the time I walked in their office through the disposition of my case I never lost faith or confidence in Mr. Bruno.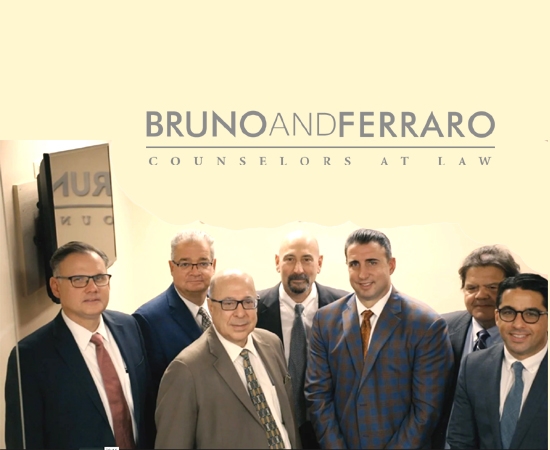 CRIMINAL DEFENSE
At the law offices of Bruno and Ferraro our criminal defense practice is focused on protecting the rights of our clients with strategic, experienced and results-driven advocacy. From your initial consultation through the final resolution of your case, we focus on protecting your rights and preventing the consequences of a criminal conviction.
FAMILY LAW
When your family faces difficult times or exciting change it is important to contact a family law lawyer. Family life is never static, but is filled with ups and downs that either enhance or weaken delicate family dynamics. Sometimes, families look forward to upcoming marriages or the adoption of a new child.
NOTABLE CASES
High Profile Cases in the Press. A Gallery of cases that we have represented. Our clients come first. From your initial consultation through the final resolution of your case, we focus on protecting your rights and preventing the consequences of a criminal conviction.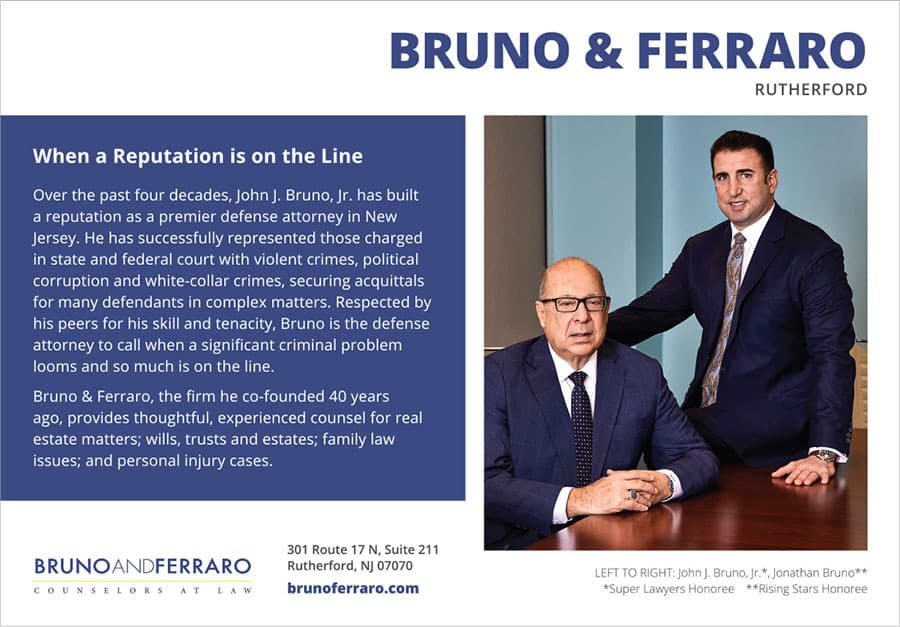 VIDEO
Please take a minute to watch our video

"His demeanor is extremely professional and courteous and at the the same time Mr. Bruno definitely is well versed in law. He fought aggressively for me and made me feel safe while he stood by my side in the courtroom. He was always prepared and I owe this man my life. I cannot express my gratitude towards him and his son John."

"I've been around a number of attorneys during the course of my life, and i can say with 100% certainty that John Bruno is the most impressive attorney i have ever witnessed. His knowledge of the law is beyond impressive. He has a tireless work ethic. But what impressed me the most was how he treated me like family. In simple terms you want John Bruno on your side."

"Your achievements in this case have made it possible for life to finally be a little easier for all of us. I will remember your compassion and caring whenever we spoke. Whatever it took for this outcome, I thank you from the bottom of my heart. "
Location
Meadows Office Complex
301 Route 17 North Suite 211
Rutherford, New Jersey 07070.
94 Jabez Street
Newark, NJ 07105.
811 Sixteenth Avenue
Belmar, New Jersey 07719